I've written about local conferences a few times before, but DDD Sydney is one of my favourites. There are few conferences that are so "For Us By Us" as DDD Sydney as it's organised by Lewis Benge and contributed to by a whole swath of the local developer community from a number of different user groups, so it's a great place to come down and meet a number of your local devs, learn something new or take part in the discussions – and for $25 it's one of the cheapest conference tickets around!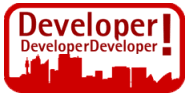 Details:
http://www.dddsydney.com/ (ONLY AU$25!!!!)
Agenda being voted on now:
http://www.dddsydney.com/Voting.aspx
A number of fellow bloggers from the Sydney scene will being there, so remember to stop by an say hi (Troy Hunt, Richard Banks, Mohamed Meligy, and many others).
Vote for my talk!
This year is special for me at DDD, as I have submitted a talk to DDD for the first time (go here and vote for me, please!).
My talk is titled:
A few things Developer's should know about the Internet (But probably don't)(Level: 200 )

Doug Rathbone teaches us that although we can search high and low for the next big thing in programming, often knowing a bit more about how our apps and websites talk on the internet pays dividends. Come take a look at some tips on using TCP/IP, DNS, and Email that will give your next project the edge.
I'm basically going to take you on a journey of a range of points from my posts about TCP/IP, Email Deliverability and DNS as well as how it all fits together. My inspiration for this has come from my travels in our industry and the realisation that a lot of us miss a lot of knowledge about what goes on behind the veil of the internet. Hopefully you'll learn a little bit about how the internet works so that you get home earlier, and your clients are happier.
I can 1000%* Guarantee that you will love my talk, so tell your friends and family to vote for it!
*not a guarantee.