Just a quick note for today: Early next month I will be attending DDD Sydney at UTS Sydney on the 2nd and 3rd July, and would like to invite you to do the same. If you are a .Net developer who is interested in one of the best priced conferences for people in your industry, this event is just for you.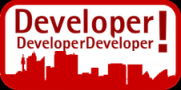 Details can be found at the website:
http://www.dddsydney.com/ (ONLY AU$25!!!!)
The agenda for the day can also be found here:
http://www.dddsydney.com/agenda.aspx
After going last year i have to say that it is a great event and a good chance to meet a lot of the local Sydney .Net developer community. A lot of fellow Bloggers that are in the Sydney/Australian .Net scene will be there, Richard Banks, Troy Hunt (remember to congratulate him on his new MVP award if you see him) and Chris Walsh (or "the Walsh effect" fame) just to name a few.
Days Agenda