Today marks the release of InTheKnow Google Analytics version 1.8 for Windows Phone 7 – there is a lot of little tweaks that have come about during the creation of this next version, and I'm excited that it is out there and getting great feedback. I spent a large chunk of the downtime in my Christmas break working on InTheKnow, so it is great to finally release the next version. If you haven't tried the app, and are looking for and easy way to check your website's Google Analytics on your Windows Phone 7 device, check it out – the trial is free.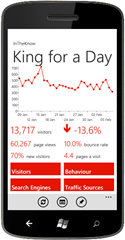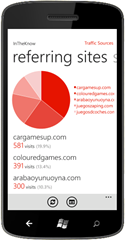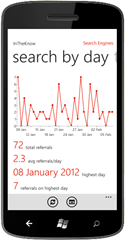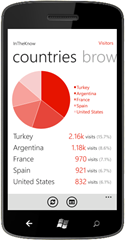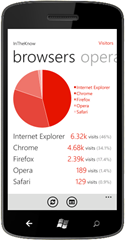 Below is a list of a number of the added features and changes in the update.
Mango support for Live Tiles
"… Time to cram that start page with some Tiles*…"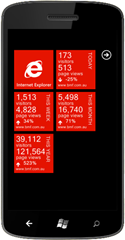 You can now pin multiple Live Tiles to your device's start screen.
I've seen how a lot of apps allow you to pin live tiles, but InTheKnow is slightly different in the fact that it's main demographic (web developers looking for easy to access stats on their sites) often are complete 'stat whores' in the sense that they want to check the stats multiple times a day.
I am often no different, even if i haven't posted a blog post in a couple of months or created a new site in a while – because of this character trait of mine i wanted to be able to pin not only multiple sites but also multiple time periods for multiple sites.
Now you don't even need to open InTheKnow to know lots of different stats at the same time.
I have also added support for back Live Tiles, with the addition of bounce rate and time on site to the stats you can see from each of your live tiles for the period.
* Live tiles require cellular data usage to update, pinning many live tiles will obviously increase your data usage – Caveat emptor.
New report: Time on site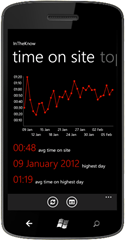 There are still a few key reports that I want to add to InTheKnow over time, so I'm excited to add Time on site to the list of reports displayed in the app.
As your site grows, one of the key indicators that your visitors are engaged is the amount of time they spend interacting with your website. There is a good summary on why this doesn't always show an absolute value over on the Webmasters StackExchange.
Watch out for more reports to come.
New polished look and feel
I've learnt a lot about designing and building Windows Phone 7 applications since i first created InTheKnow, and therefore i felt that it was about time refreshing the layout and detail put into the finished product.
Jeff Wilcox has made it dead easy to make beautiful looking Windows Phone 7 apps by releasing both a Metro Design Guide for developers and the MetroGridHelper, both of these helped a lot in polishing the app to where it is in this release.
Have your say
Are you using InTheKnow? do you have some feedback you'd like to let me know about?
If so, why not shoot me an email telling me all about it – I'd love to know.