This weekend a bunch of like minded people are getting together to hack on Windows 8 and Windows Phone to create some awesome applications and win sweet sweet prizes. You can be one of them – so why don't you come rock out with Microsoft, eat and drink on the house and create some app awesomeness.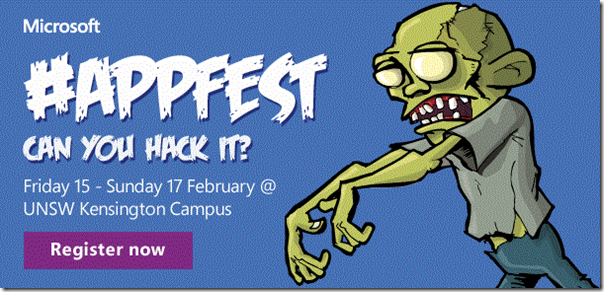 Price: Free
When: 9:00am – 9:00pm on Saturday 16 February 2013 and 10:00am – 5:00pm on Sunday 17 February 2012
Where: UNSW Kensington Campus – Scientia Conference & Events Centre in the Tyree Room
The plan for the weekend:
Saturday 16th February
09:30 Doors open / Registration
10:00 Welcome
10:15 Design Keynote – Shane Morris, Automatic Studios
11:00 Hacking and Design prototyping
13:00 Lunch
18:00 Dinner
21:00 Doors close
Sunday 17th February
09:00 Doors open
12:00 BBQ Lunch
13:00 Demonstrators prepare
14:30 App demos
16:00 Success keynote – Vaughan Knight, Nokia
16:30 Prizes announced
17:00 Doors close
As a Windows Phone developer I'm really excited to see what apps come from this weekends inspiration and hard work. If you're a start up, have an idea but no idea on how to create it or just want to come check it out register and come along.
I have the privilege of being a Microsoft Invited mentor over the weekend and will be wandering around helping out where I can, so If you see me please come say hi.